What Bass players are saying
"I recently bought Bi1000 amp and it's the best bass gear I've ever used. Form Factor Audio is the best out there!"

Nikki Sixx, Mötley Crüe
....the result was a brighter version of a Jaco-inspired tone that made me want to keep playing and playing.

Victor Brodén, Premier Guitar
By Far, Hands Down... The Answer! This is the sound of Today's Bass.

Charles Quinn aka Dr. Thumbs
I love my Bi100 and 4B10L. In the studio or on the road. Clarity, power, and amazing tone.

Jay Laws (Bass Player, Producer)
The Bi100Di...the cleanest gain I've ever heard. This is probably the best bass amp in the world.

Pancho Tomaselli
The new standard in high end bass gear:
HAND-BUILT IN CALIFORNIA
Unlike mass-produced gear, Form Factor Audio's approach is to take the assembly of each product like a stand alone project. Insuring the best quality of craftsmanship and an amazing product.
THE BEST COMPONENTS
Using Italian-made transducers, compression drivers with horns and other high-end parts, all mated to a baltic birch cabinet that was perfectly designed to work in unison with them. This is what creates our signature sound. Clear, transparent, powerful. 
TRANSPARENT POWER
With the cleanest gain and power you'll hear in a bass amp, the Bi series delivers loads of power and incredible tone, while allowing you to truly hear your bass.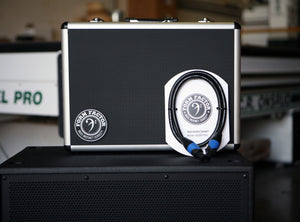 AUDITION AT HOME
With a flexible return policy, you can test out Form Factor gear in the comfort of your home and return anything you're not 100% satisfied with. 
WARRANTY & SUPPORT
With a 3 year warranty on bass cabs and cables and a 1 year warranty on our amps, you can rest assured the gear will work as hard as you do. After sales support is available after the warranty period as well, with easy factory-direct support, inexpensive repair and recone kits and factory inexepsive factory repairs for anything serious.